On a misty morning, fresh out of jail, while the sun was still rising and with police still spying on me, I followed the rail tracks down to a trash-filled river and saw a rusty coal-powered train, loading supplies. spewing black smoke and charging its belly with pieces of coal the size of a watermelon.
I would travel three days and two nights packed into the small hard seats of a coal power train, overcrowded with farmers and working-class passengers.
Overflowing toilets and piles of excrement in each train car were evidence of how long the trip had already been. Drunkards and women with children slept on top of each other in the feces-filled gangway. I pissed on the newspapers that others had wadded between seats for that purpose. I shit on the floor of the gangway as everyone else had unabashedly done. There was hardly a space to press your forehead onto a tabletop to rest. Passengers passed out on top of each other. The lucky ones laid down on newspapers that had been placed in the aisles which were covered in shells of peanut or sunflower and dampened by rivulets of urine and spit. In my disbelief, I wondered if this was a secret torture train that was known only to "Pheasants" punished for being farmers living in remote provinces or from some unspeakable act their ancestors had committed. My backpack and clothing would now be sacrificed on the floor as a barrier to keep the horrifying mess from my face. With my head on my pack, the voices of people talking all night merged with the rolling hum of the iron wheels and I fell into a slumber in which I swear I could understand every word being spoken regardless of dialect.
By day the train clattered and jerked, squealing, and bouncing over the rails.  We passed surreal landscapes and treeless villages built from pink mud and rammed earth.
Barefoot children chased donkeys and mule carts. I could see the large open courtyards of tile-roofed homes called siheyuan, occupied by extended families in a style of communal living dating back 2,000 years. Occasionally, I managed to walk to the train's fiery coal-fueled engine room. When we boarded more passengers, I reveled in the icy air which hung heavy with mist and sulfur. Finally, deserts opened wide in Qinghai province.  We passed lakes filled with snowmelt and pink flamingos. The city of Golmud, with families of nomads wandering the dirt streets appeared. The train came to its final stop in a steelyard.  It was blistering cold.
Paul Theroux, the great travel author, once wrote about his experiences riding the iron rooster across China. Like him, the clattering beast had delivered me to the end of the line. This time, it was the  Autonomous Mongol and Tibetan region at the edge of the Gobi at the base of the Tibetan plateau. Over the next six weeks, I would use all the money remaining in order to travel overland through Tibet. Smuggled in jeeps and by foot to Llasa, Shigatse, and Gyantse, I sold a few possessions and was able to reach Kathmandu with a few coins left.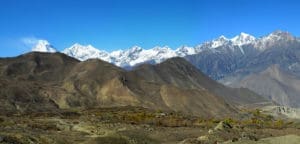 There, In Nepal, I received a letter from my family, who had contacted the American Embassy and they related Xia's safety back in Shanghai.
"One sage of old had head shaved like a slave,
Good ministers were killed,
In nakedness, one saint was forced to roam,
Another's blood was spilled.
This has been so from ancient times till now,
Then why should I complain?
Unflinchingly I still shall follow truth,
Nor care if I am slain.

Qu yuan  278 BCE