Foreigners therefore often referred to FEC as fecal matter. This pejorative term was warranted because FEC was a key to China's elaborate system of financial control all over the country and effectively restricted the movements of foreigners in China. The only advantage for Americans carrying FEC notes, however, was that the Chinese wanted them to buy imported goods in the "Friendship stores".
These Friendship stores carried a boring inventory of so-called "luxury" items such as radios, Swiss army knives, craftsman tools, and commodities like corn flakes, Kentucky whiskey, and delicious American cigarettes. The odd household implement associated with 1950's Americana and posters of Pin-up girls from the same era could also be found there. Chinese would often secretly buy FEC from a tourist at a premium of 20% over the face value of the note to acquire these rare goods, or, in many cases simply ogle them under the pretense that they were shopping. This made the exchange of Dollars for FEC and back into RMB a small enterprise for cunning locals. When all exchanges were totaled between black-market dollars, FEC, and RMB, a $100 US converted to 800 Chinese Yuan and made things economical for a young American traveling deep into the Chinese countryside.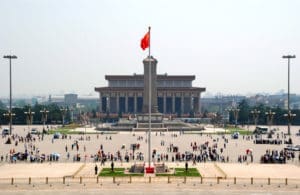 It was in front of one of these Friendship stores I met a downtrodden university student, Jon Xia Yi who was hustling black market dollars for RMB and FEC notes. Xia had been blacklisted and kicked out of his university after the brutal crackdown that followed the Tiananmen Square uprising a few months prior to my arrival. This oppressive punishment for outspoken students had left him in financial ruin.
Xia lamented to me about China's human rights violations, lack of free speech, and the corrupt officials whom he called, "Government Paunch ". He assured me the Paunch had 'bloated bellies' and would accept his bribes if presented correctly. With our mutual disdain for all things regimented and a spirit for misadventure, Xia would soon become a trusted friend and clandestine business partner for the ensuing nine years.